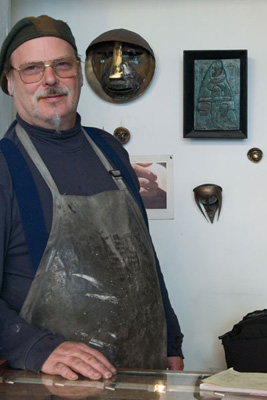 Training
Basic Metal Arts & Sculpture Training 1962-1970, with Father, Peter Macchiarini.
Ongoing and current metal and sculpture project work within Macchiarini Creative Design studio 1970 to present.
S.F. State University 1971-73 Arts Major Honor Society, Pottery, Painting, Life Drawing, Glass and Bronze Foundry course work.
Majory Showings
S.F. Art Festivals, Civic Center, 1973, 1975, 1978, 1979
Upper Grant Ave. Street Fairs, 1967 through 1983
"West Fest" Art Car Show 1998 S.O.M.A.R. Gallery, Interview National Public Radio for "Darwin" my million mile art car/van.
New York Modernism Shows, 1996 through 1998
Los Angeles Modernism Shows, 1996 through 1998
E. Bustamante Art and Antique Shows, Santa Monica & Pasadena 1996 through 1998
Invited to display Metal Sculptures created at "Burning Man" in traveling arts show, Burning Man Project 1999.
Won sponsorship, Created and Installed 30' X 25' X 12' "Dragon" Kinetic metal sculpture at Burning Man 2000.
Galleri Metallum International Jewelry and Sculpture Exposition, Denmark, Sweden, Sweden + USA Contemporary Jewelry and Metalwork Show. May through June 2000.
Close to the Flame: In the Spirit of Burning Man The Museum of Art And History (MAH) Santa Cruz, California show included three pieces by Daniel Macchiarini cast at Burning Man between 2000 and 2006 from recycled aluminum Y2007.
The University of St. Francis exhibit is entitled "The Modernist Movement and Beyond" will run from May 3rd  May 30th 2008.
Public Art Projects
Volunteer, Repair & Restoration work, graffiti removal and defacement abatement, Hays Streets Mural, "Our History is No Mystery" 1983, Designers/Directors Jane Norling & Vicky Hamlin
Co- Designed with artist Jo Tucker 150' x 50' Recycling Mural sponsored by the Calif. Dept. of Conservation at Chaves(Army) & Minnesota St. S.F. Directed work crew through S.F. Conservation Corps. 1991
Designed and directed S.F. Conservation Corps. work crew for Oakdale Housing Project Mural, "Hoop Shadows" basketball Court wall, exterior, 100'x 6' and surrounding walls approx. 25' x 50'. M.O.C.D. sponsored, 1993.
Co-Designed and painted Recycling Mural with artists Jo Tucker, East Bay Conservation Corps., 1994 Adeline Blvd. Oakland 30'x 50' sponsored by the Calif. Dept. of Conservation.
Worked with Peaceful Streets Organization, designing and creating several sculptures derived from gun parts for public exhibitions at "Gun Bake" events. S.F. Chronicle, Bay Area Focus Section, 01-30-99, article "Peaceful Alchemy".
Designed metal installation section for public arts mural project "Soul-Journey"led by Precita Eyes Muralist Susan Cervantes. Completed Oct. 2000.
Designed and rebuilt Kinetic Heart Sculpture for "Hearts Project" Y2002
Designed and installed bronze plaque publicly celebrating "Poets Corner" @ Grant Ave. and Filbert St. SF Y2002 (included public casting event at Upper Grant Ave. Fall Fair)
Designed and installed bronze plaque publicly celebrating 50 anniversary of all Street Fairs @ Grant Ave. and Filbert St. SF Y2004 North Beach Festival (included public casting event at North Beach Festival)
Designed, built and installed "The Wave" Fire Pit, Permanent Installation, Ocean Beach San Francisco, CA  2007
Published work and interviews
Schon, M. (2004). Modernist Jewelry 1930-1960: The Wearable Art Movement. Schiffer: Atglen, PA. 
Hearts in San Francisco Book Committee (2004). Hearts in San Francisco. San Francisco, CA.
San Francisco Chronicle, "Beach Blazes Make Comeback," article dated 3/22/07
Schon, M. (2008). Form and Function: American Modernist Jewelry 1940-1970. Schiffer: Atglen, PA.
click thumbnails for enlarged view.
The Macchiarini Creative Design Studios uses only non-conflict diamonds, recycled 19th Century ivory, and recycled hard woods. We believe that progressive business practices both enhance our work and allow everyone to own one of our original pieces.
Copyright © 2011 Macchiarini Creative Design.
All design concepts and variations thereof are the intellectual property of Macchiarini Creative Design.
Web site design and development by David Otto.